Am I the only weirdo alive that says such statements?  Chris will give me a blank stare, like "who's Stan?"  Nope, ok.  Glad to get that cleared up right off the bat…you are reading the ramblings of a nut-job.
Back to the subject at hand.
Here we are, Week 1 of bathroom reno.  I've been a googling fool lately trying to find the perfect idea to fix up our very long and narrow bathroom to give it a fresh and clean look.  As of now it's dark, grungy and very green.  Remember?
So here's the run down on our first major remodel!  (eek, just a tad bit excited for this one!)
1. Remove the popcorns on the ceiling (yuck)
2. Add a new bathtub and tile the shower wall
I'm loving this white subway tile with the accent tile near the top.  Clean and crisp shout exclamation points from this beautiful shower at Interior Fun.
3. Update the current cabinet set.
4. Linen Cabinet update.  The linen cabinet on the right has to stay.  It houses our AC vent unit on the bottom.  I want to finish it out by adding cabinets to the ceiling.  Then I plan to open the shelves up to display towels and toiletries.
5. Fresh light coat of paint.  I'm adoring this shade of green called Sea Salt by Sherwin Williams.  Maybe a coat lighter, but it gives off a nice spa-like feel.
6. Add new trim and crown molding.
7.  Build a divider wall between the vanity and the toilet.  The big question in my mind is how to fill that awkward space between the cabinet and the toilet.  I think a half divider wall would add some privacy to the toilet area while adding some color and crispness to the vanity.
8. Floor Upgrade.  We currently have very grungy looking laminate flooring.  I want to add a darker tile to help illuminate the white of the tub, counter and trimming.  I'm loving this Galvano Charcoal Glaze Floor Tile at Lowes.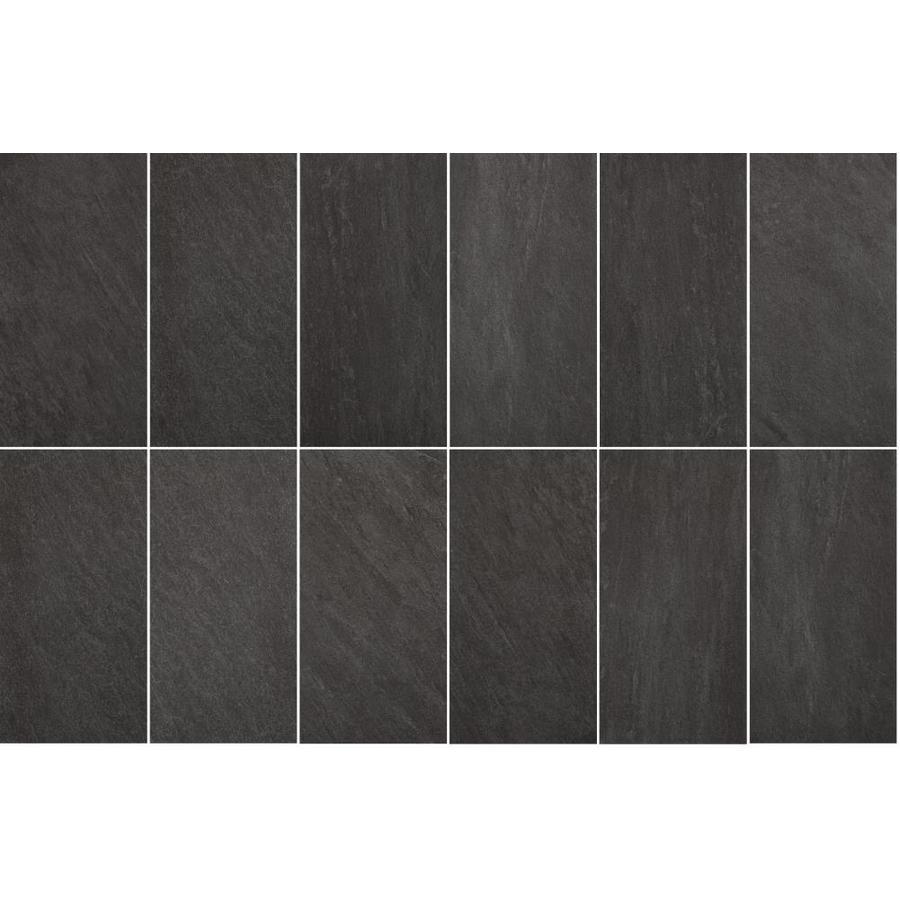 9. Lighting.  Last, we want to finish off the room with an upgrade to the lighting system.  We will remove the fan/light and add recessed lighting with a decorative vanity light.