Can we just take a minute to discuss this Open Shelf concept that everyone, and I mean everyone, is partaking in during their kitchen remodels.  This post is about to do a 180 from the direction you think its going it.  I want to discuss all the reasons why you SHOULD NOT put Open Shelves in your kitchen.
First lets admire all the beautiful pictures and the fabulous work my fellow bloggers have done staging these photos.  Yes, these are staged, doesn't that tomato look yummy! 
Check out this stunning kitchen that was featured on Design Sponge.  I love how the dark wood of the floating shelves contrast the stark white kitchen.  It adds an element of warmth and the open shelves give it a cozy feel.
Then there is this farmhouse rustic kitchen featured on Desire to Inspire that is country elegence.  I love the classically simple design of the brackets used to hang the shelves, much like my DIY Corbel shelf here. 
Oh, and then there is a whole new level of the industrial open shelf concept that has me lusting after galvanized pipe fittings. 
But let's get real shall we?  The open shelving concept is great, for pictures. If you want to show off your house. If you have really cute white dishes to display. If you don't have a husband and/or kids! 
Don't get me wrong, I love the idea, but the practicality of open shelves in your kitchen is just a terrible idea and here is why.
Who wants another spot to dust, all. the. time.?  I certainly can't keep up with what I have now.  And this is a spot you do not want to get dirty.  Nothing like grabbing a plate off the shelf and having to clean it before you use it.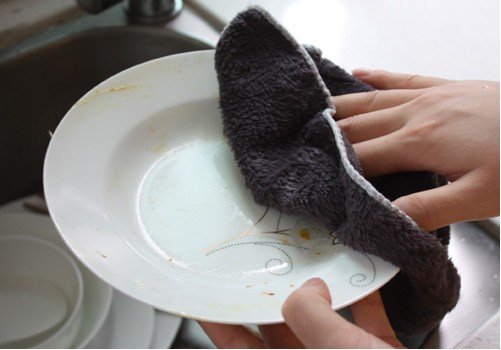 There is no way you are going to keep those dishes neatly stacked and looking beautiful.  I mean, I'm the queen of OCD and having my house put together, and this is what my kitchen cabinets look like.  Not open shelf worthy.  I give those open shelves one week and they will start looking more and more like this.

Introducing a new catch-all for the Mr and kids.  You can be the cleanest, most tidy person on the planet, but I guarantee you, those kids won't think twice before piling their junk up there.  I mean baby needs art on the shelves too. 

Remember that time you almost tripped over the baby in the cabinet and spaghetti sauce went flying everywhere. (true story)  Thanks to those cabinet doors, you didn't have to spend hours washing dishes.
I could go on and on, for days.  I'm a fan of the open shelf concept that's hitting the internet like a Kardashian photo storm, but the practicality of it is not there.  I would much rather keep my cabinet doors to hide all my clutter and mess going on behind it.  And we all have that mess. Yes, I'm looking at you! 
So if your wanting some cute shelving in your kitchen/dinning, go with a more decorative approach and leave these dishes in the cabinets.