Well that about sums up what I'm going to talk about today, my favorite thing ever….ORGANIZATION!  Some people call me the Clutter Nazi.  I may have a bad habit of unstapling papers just to line them up straight, or going behind my husband and reorganizing the loaded dishwasher.  But without a little organization, life would be hectic and stressful.  I'm not even kidding, I get super stressed when my house is a mess.   
So today, I wanted to pass along a few pearls of wisdom that get me through the every day.  Hopefully, you can incorporate a few of these into your own life to wrangle the chaos. 
Baskets:  With a toddler roaming around, we use baskets to gather and collect toys.  We have baskets in all of the main living areas, so that when she is in the room with me, she can play.  We have toy baskets not only in our living room and her bedroom, but in the kitchen and the bathroom as well.  This really helps keep her from dragging toys all around the house and it makes for super easy clean up when the basket is right there and not two rooms away.
Mud Room:  I thought the addition of our mud room would a fun and cute little room off of our family room.  I really didn't expect it to have such a big impact on my life and our homes organization.  Since the purpose of this room is to be a catch all.  It was set up to help organize all the junk with a place for shoes, bags, coats, and other junk.  If you don't have a designated space for a room, you can easily create a space right inside your door for your every day organizations like these suggestions from

Refresh Restyle

.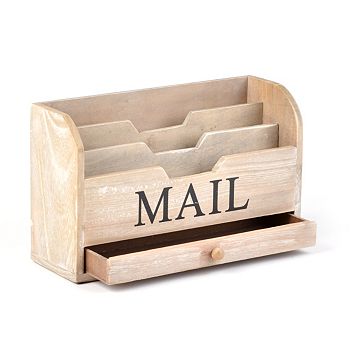 Mail Box:  How many times do we just toss our mail on the counter or table.  And then something gets lost.  Our mail box that I found at Kirkland's a couple of years ago similar to this

one

 has been a huge life saver for keeping all of our bills organized. 
Daily Routine:  One of the biggest recommendations I could give to anyone, is to have a daily routine for around the house.  Instead of coming home from work and plopping down, do a few chores.  I normally come in, get the dogs walked, unload and reload the dishwasher and then start dinner.  Having my set tasks makes it less of a chore and more of a habit.  The end result is a much tidier home. I have a set list for mornings, evenings and bed time similar to

Creative Home Keeper

.
Well, I think that is enough pointers to get you started to a more organized week.  Don't let it be a chore, make sure to have fun with keeping a well organized home. 
What are some fun ways you like to keep organized?
What is your organization goal this week?