Here we are a full 15 days into 2016 (umm, yeah, still typed 2015 and had to correct that) so lets take a look into the future on what projects we have planned.
1. Hall Bath Reno:  First up on the ol' to-do list is to start renovating our hall bathroom.  If you will remember this neon-mint green mess that has been hanging around for 2 years with patch marks all over the wall. Lord forgive me!
We are finally tackling this project head on.  Can't wait to share everything from our plans, to demo, to the final reveal.  *We would love to hear your thoughts and ideas on what this room could look like, leave us a comment.*
2. Spruce up the Fireplace:  Our fireplace has always felt ho-hum to me.  I love the red brick but have also debated white washing it all.  But I don't feel like that would solve any problems. 
I love this idea  of a dark built on with the crown molding.
3. Add Chunky Molding:  I love our huge windows, but they just feel, like the fireplace, ho-hum.  I would love to add some chunky molding to it, much like they did a few weeks ago on Fixer Upper.
4. Create Art:  I want to channel my inner Picasso and create some cool funky art.  I have a long hall way that needs the walls filled.  This could be a fun and budget friendly project to tackle.
5. The Hall Gallery:  I have loved the idea of filling a hallway with pictures.  Lucky for me, I received a ton of frames for Christmas to begin such a project.  I've adored this hall gallery from YHL for several years.  Maybe I can recreate this for my own.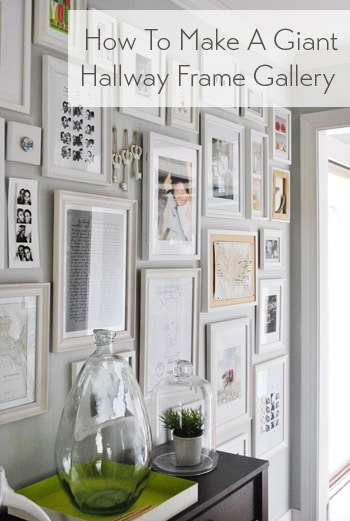 6. Flea Market Find:  One of my favorite hobbies is flea marketing.  The possibilities become endless walking in those doors.  I would love to take on a couple more small projects to fill the house with.
7. Kitchen Redo:  I will be helping my parents transform their kitchen from wood panel-mania to country chic. I'm so excited to help plan this and to share the transformation with you. 
8.Blog More:  My hope is that I'm able to bring my friends and family some cool fresh ideas for around your home.  You can now find us over on www.houseblogging.com
One Small Step:  (Now, I'm going to steal a phrase from our pastor.) What can you do…Share me!!! Make sure to follow us on facebook, twitter, instagram and pinterest and share away with your friends. You can check the contact tab for more information.  Also check back to the tabs as I am currently working on getting those updated.