This post contain affiliated links.
Long over do, here is a run down of our LOs nursery.  Any room I go to redo has to start with some inspiration.  For the nursery, I found these adorable prints on
etsy.  Here are some similar prints.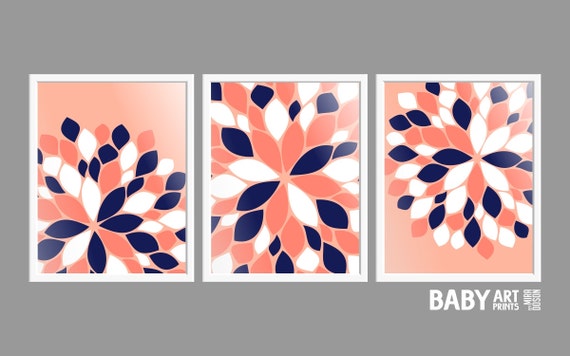 I envisioned a space that would easily grow with our daughter.  Something that she would love just as much the day she's five or ten as she did the day she was one.  With this in mind, I decided her theme would just be colors.  I loved the navy and coral together.  Is was very feminine with a touch of edge.  I added in some gold accents to complete the space.  As you remember
here
in the mood bored I created.
The room was a bit of a project, but nothing a 4 month pregnant chick couldn't handle.  We started by painting her room a soft pink.  I found this Moroccan trellis stencil through
J Boutique Stencils
 and used it with a high gloss paint in the same shade as the other walls with just a touch of glitter for the wall behind the crib.  It's very subtle, but I love when the light catches it.
I loved how these Edgar Degas prints, that hung in my room as a child, fit so perfectly in this room.  They were a gift to my great-grandmother when my great-grandfather was overseas.  I was rummaging through my attic and came across these.  *Lesson of the day, you can find unique décor pieces around your own home.*
And that isn't the only family heirloom in this room.  I repurposed this old dresser into the changing table.  It was the set my grandmother and grandfather bought when they were married.  I used an acrylic navy paint and added new gold drawer pulls. You can check out this project here.
The room turned out better than I ever expected.  I'm still excited just walking in here.  Below is a run down of all the goods.
5. Changing Table – Refurbished Dresser
6. Art – Hobby Lobby finds